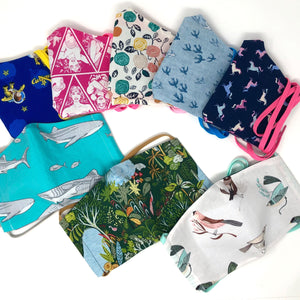 Sewing? Or Wood?
So, what is a woodworker and photographer doing making sewn products??
Actually, Cuppa Fog was originally created because I was sewing cell phone and tablet cases and purses! I've been sewing since I was 8 years old, and always loved it. So when the world turned topsy-turvy, I realized I could actually make a difference by digging into my fabric stash and making masks. Over 3300 masks later, I realized that I had missed sewing, and wanted to continue it.
Are you still selling wood art?
Yes! But turnaround time may be a bit longer, as most of work is sewn these days. I also have many items currently in stock - if you're on a timeline, send me an email!
Cuppa Fog art is Handmade!
Photos are taken by the artist, Chelsea Hiatt Farley.
Cuppa Fog pieces are photos that have been hand-transferred onto wood block. The result is a retro-looking, uniquely-distressed image. The process transfers the ink to the wood, which results in the wood grain showing through, and an organic distressing of the ink.
Each transfer is hand-done, and each piece is one-of-a-kind! Every piece has its own unique wood grain and areas of distress. Therefore the item you receive will differ slightly from the picture on the website. Items are made-to-order. Please allow 5-10 business days before shipping.
Images are sealed in semi-gloss to be UV- and water-resistant. Wood edges are left raw to enhance the distressed, natural look. The wood is hand-cut, so measurements may vary slightly.
I am happy to work with you on custom pieces as well. Please contact me for further pricing and information.